The results of the External Audit of the Icelandic System for Inclusive Education (Úttekt á framkvæmd stefnu um menntun án aðgreiningar á Íslandi) were launched in Reykjavík on 2 March 2017.
Over the course of 2016, the Agency conducted a standards-based Audit in Iceland, focusing on two key tasks:
identifying country stakeholders' standards for their system of inclusive education
independently collecting and analysing data to evaluate current policy and practice against these agreed standards.
The Audit activities involved almost 300 Icelandic stakeholders in the work: learners and their families, school staff, support services, school funders and operators, national teacher organisations and teacher education institutions, local and national level decision-makers. The fieldwork was organised around focus groups, school visits and interviews with a wide geographical coverage across Iceland and was complemented by online surveys.
The final Audit reporting package consists of a report and six accompanying Annexes (available from the Ministry of Education, Science and Culture website). The final report summarises the strengths and challenges within the Icelandic system for inclusive education. Crucially, it includes a comprehensive series of recommendations, linked to the Audit standards used as the basis for the work.
As part of the launch event, ministers and representatives of key stakeholder bodies signed a memorandum of co-operation declaring their common will to co-operate in implementing the results of the Audit. The signatories were:
Mr Kristján Þór Júlíusson, Minister for Education, Science and Culture
Mr Þorsteinn Víglundsson, Minister of Social Affairs and Equality
Mr Óttarr Proppé, Minister of Health
along with representatives of:
the Icelandic Association of the Local Authorities
the Teachers' Union
the Head Teachers' Union of the Upper-Secondary Schools
the National Home and School Association.
During the presentation of the audit report, Agency Director, Mr Cor Meijer pointed out that the Audit process must be viewed as one element within the wider system development process that is being undertaken in Iceland. It constitutes an external view that builds upon stakeholders' perceptions of their system, following the systematic examination by the Audit team.
Mr Per Gunnvall, the Agency Chair, concluded that the memorandum of co-operation involving so many key stakeholder groups represents a strong foundation for future work in Iceland.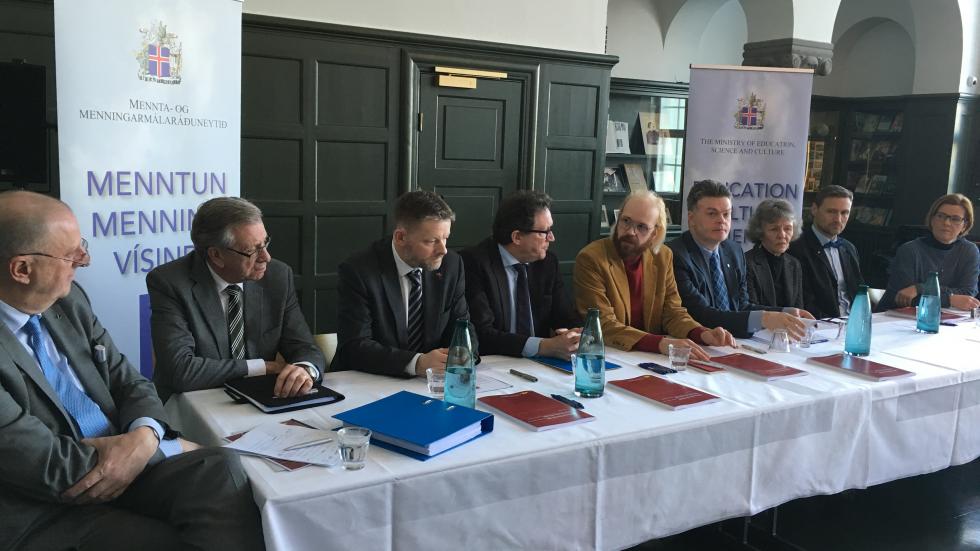 organisation of provision
policy analysis