In 2015, the Agency was awarded a European Commission grant to conduct a three-year project to explore the financing of inclusive education. The Financing Policies for Inclusive Education Systems (FPIES) partnership project will run from 2016 to 2018.
FPIES aims to identify coherent financing mechanisms for inclusive education, examine how they operate and assess what critical levers impact upon the effectiveness of funding policy mechanisms to reduce disparities in learning outcomes affecting learners from disadvantaged backgrounds. Project activities will involve work with policy-makers for inclusive education in the 29 European Agency member countries and a series of detailed case studies examining different educational funding approaches.
The project is funded by the European Commission's Erasmus+ Key Action 3 'Forward-Looking Cooperation Projects' framework.
FPIES is based on direct co-operation between eight partners: the ministries of education in Italy, Lithuania, Netherlands, Norway, Portugal and Slovenia, the Universitat Ramon Llull, Barcelona, and the European Agency.
Scoping Meeting and Country Study Visits
In March 2016, ministry representatives from the Agency's 29 member countries met at a Scoping Meeting in Brussels to identify their specific priorities for detailed examination in FPIES. Through plenary discussions and detailed group work, the ministry representatives identified key factors to be improved in inclusive education, key questions to investigate in FPIES and the types of outputs that would best support their future policy development work.
The outcomes and proposals from the Scoping Meeting are now being used to develop the project's conceptual framework.
Starting in late 2016 and throughout the spring of 2017, each of the six partner countries will host a Country Study Visit. The visits will examine the countries' financing of their inclusive education systems through discussions with key policy-makers and national stakeholders as well as representatives from the project partners, using a peer-review approach.
More information on the FPIES project can be found on the project web area or on the European Commission's dedicated project area.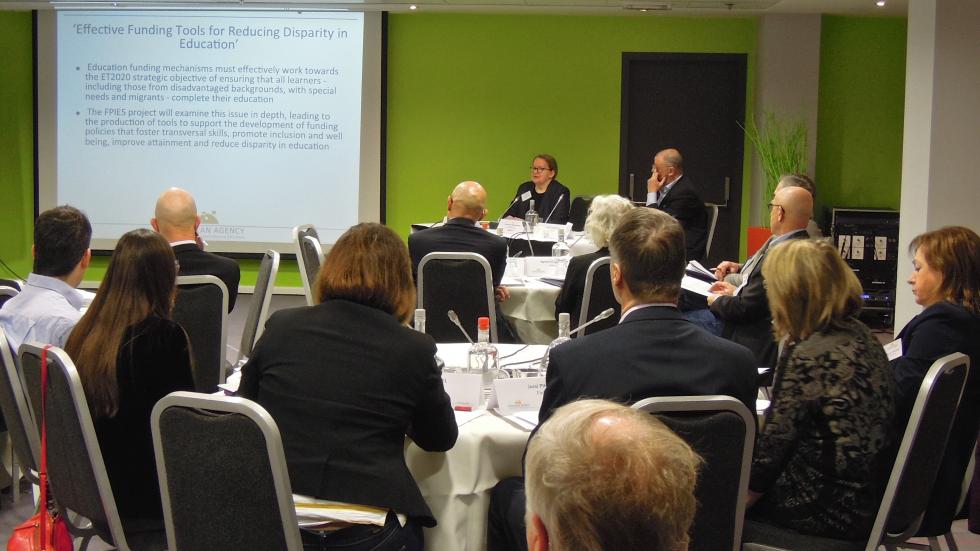 financing
policy analysis