The main output of the Financing Policies for Inclusive Education Systems (FPIES) project, the draft Policy Guidance Framework, was introduced at a Validation meeting held in Athens, Greece, on 7 June.
The FPIES project, running from 2016 to 2018, builds on a previous Agency project, Financing of Inclusive Education – Mapping Country Systems for Inclusive Education (2014–2015). FPIES is co-funded by the Agency and the European Commission's Erasmus+ Key Action 3 'Forward-Looking Cooperation Projects' framework.
The project is based on direct co-operation between eight partners: the Ministries of Education in Italy, Lithuania, Netherlands, Norway, Portugal and Slovenia, Universitat Ramon Llull (Barcelona), and the Agency. The partners from Universitat Ramon Llull are external project evaluators with a focus on project activities and outcomes.
The FPIES project's goal is to systematically examine different approaches to educational financing and identify an effective funding policy framework that works towards reducing disparity in education. It aims to work with policy-makers for policy-makers and the peer learning methodology has been used to support that aim.
The Validation meeting was a whole-day event involving Agency Representative Board members or their representatives, the FPIES country partners and the partner Ministerial representatives, who are responsible for inclusive education in their countries, and participants from the Greek Ministry of Education. The meeting served to get feedback on the relevance of the project main outputs for this key group of policy-makers, as well as information on how the project materials may potentially be used to inform their future work in relation to financing inclusive education systems.
The Validation meeting focused on launching the project synthesis report, Resourcing Levers to Reduce Disparity in Education which analyses the project findings, and on discussing and collecting feedback on the draft Policy Guidance Framework. This feedback will be used for re-working and editing the framework. The Policy Guidance Framework will be finalised at the end of 2018. The final version will be translated into all member languages and presented in an open-access format online.
More information about FPIES is available on the project web area.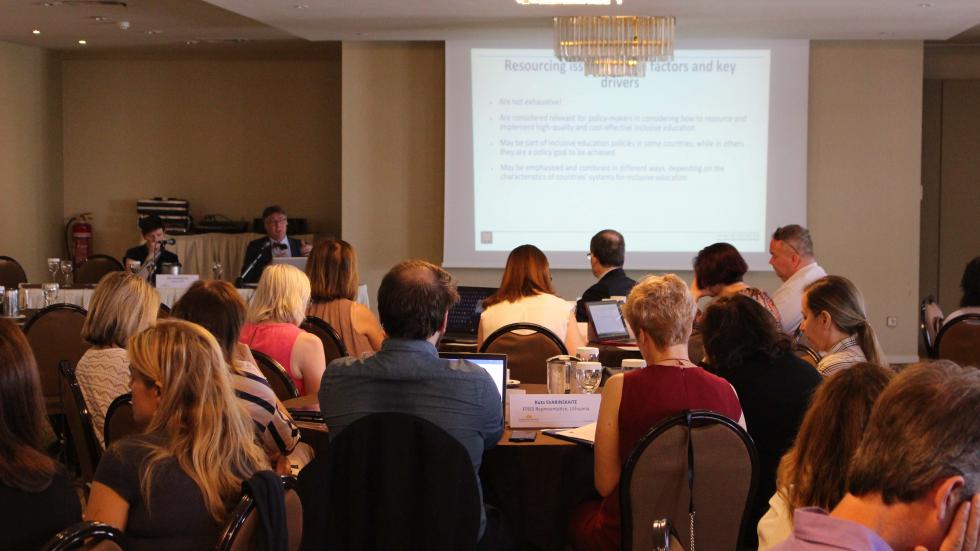 financing
policy analysis