The last event under the aegis of the Bulgarian Presidency of the Council of the European Union (the Council) took place on 21 June 2018 in the Council. The conference entitled 'Towards a European Education Area – Promoting Common Values and Inclusive Education' was co-organised by the Agency.
The event built upon crucial initiatives adopted by the Council on 22 May 2018, described in the Council Recommendation on promoting common values, inclusive education and the European dimension of teaching and the Council conclusions on moving towards a vision of a European Education Area.
On behalf of the Bulgarian Presidency, Ms Denitsa Sacheva, Bulgarian Deputy Minister of Education and Science, opened the conference. She stated that high quality inclusive education – from early childhood education to higher education and lifelong learning – is a priority of the Bulgarian Presidency. In her view, education is the most sustainable solution to 'save the world'. However, this will only work if concepts 'turn into action', and therefore she urged Member States to unite efforts to implement the Council Recommendations.
In his video intervention, Tibor Navracsics, European Commissioner for Education, Culture, Youth and Sport, emphasised how important it is to promote common values, to create a sense of belonging and give a fair chance to all learners, whatever their educational needs and irrespective of their social background.
The discussions in the first session concentrated on the main concepts present in the Council Recommendation, such as common values, sense of belonging, participation, inclusive education and the European dimension of teaching. A young Italian learner shared his own personal experience about inclusion in his school, and concluded that schools should be the first place of inclusion.
The panellists in the second session, moderated by Cor J.W Meijer, Agency Director, examined practical examples of implementing common values and inclusive education. This session began with the input of a young learner originally from Kosovo, who spoke about her and her friends' experience as foreign students in Belgium. She explained that sharing common values and experiencing diversity in the classroom gave her a broader view of the world.
A specific example of successful policy co-operation and exchange work between countries was shared by Alen Kofol, representative of the Slovenian Ministry of Education and Sport. He spoke about the Agency's Financing Policies for Inclusive Education Systems (FPIES) project, in which he has been involved as Country Partner representative, along with colleagues from the Ministries of Education in Italy, Lithuania, Netherlands, Norway and Portugal. The premise of the FPIES project is that policy-makers across different European countries recognise that funding mechanisms are a critical lever in reducing disparity in education.
Ana Magraner, Agency Chair, closed the meeting, concluding that the event provided a great opportunity to discuss what the implementation of values within inclusive education means at both policy and practical levels.
The conference brochure is available here. For more information about the event, read the press release on the Bulgarian Presidency's website.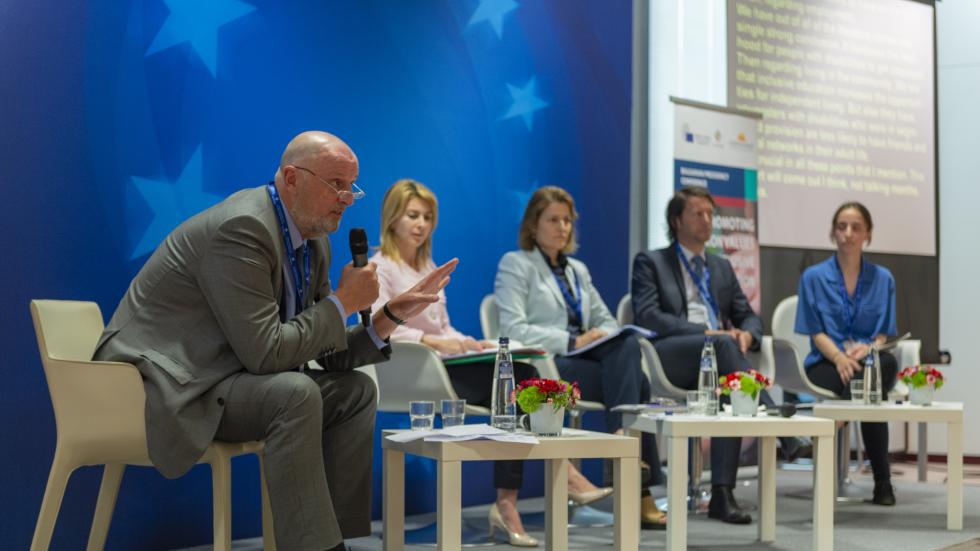 financing
international co-operation
multicultural diversity