This area contains Multimedia materials including key messages, Agency presentations and links to videos from the Agency YouTube channel.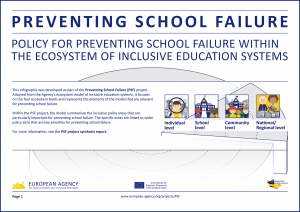 This six-page infographic was developed as part of the Preventing School Failure (PSF) project. Adapted from the Agency's ecosystem model of inclusive education systems, it focuses on the four ecosystem levels and represents the elements of the model that are relevant for preventing school failure. 
For more information, see the PSF project synthesis report.
Download this infographic below and share it using the Agency's hashtag: #EASNIE
Key messages from Agency Director, Cor J. W. Meijer's  presentation entitled 'Inclusive Education in an International Perspective' at Eötvös Lorand University in Budapest, Hungary.

Every learner should have access to meaningful, high-quality educational opportunities in their local community, alongside friends and peers. This helpful infographic summarises how and why legislation, practice and policy contribute to the Agency's vision for inclusive education systems.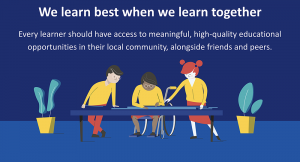 Presentation: Inclusive Education Across Europe
Using an engaging format, this presentation illustrates the Agency's position on inclusive education systems. It summarises how and why legislation, practice and policy contribute to the Agency's vision. This material can be used and shared broadly to explain the importance of achieving inclusive education across Europe and beyond.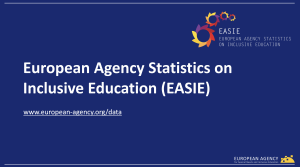 European Agency Statistics on Inclusive Education (EASIE) 2020 Presentation
This presentation summarises the latest findings and updates about EASIE data collection, which will take place annually from 2020 onwards. 
Agency Director Cor J. W. Meijer takes part in a panel discussion on 'Inclusion and Equity in and for Sustainable Development Goal 4 (SDG4)' at the UNESCO International Forum on Inclusion and Equity in Education in Cali, Colombia in September 2019.